Model PWR247T-100 Series
Bourns is pleased to announce the introduction of its new AEC-Q200 compliant, high power thick film resistor series.
The new Model PWR247T-100 comes in a compact TO-247 package and uses thick film on ceramic technology, which has the advantage of having low inductance and is able to absorb power up to 100 watts when properly mounted to a heat sink.
Bourns offers a broad range of PWR high power resistor series with DPAK, D2PAK and TO-220 packages and the new TO-247 package helps strengthen the existing PWR product family.
The new Bourns® Model PWR247T-100 through-hole mount, radial leaded resistor series has a wide resistance value range from 50 milliohms to 1 megohm and is available in two different tolerance options of 1 % and 5 %.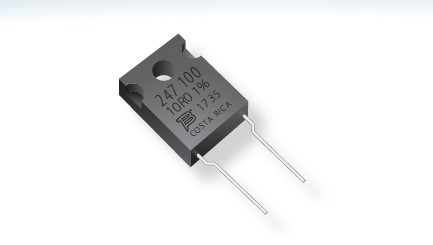 The Model PWR247T-100 is made with a thick film resistive element on a white alumina ceramic substrate for contact with a heat sink which is electrically isolated from the resistive element.
This product is ideal for current limiting, current measurement and capacitor discharge. It can be designed into industrial and telecom applications such as test and measurement equipment, motor drivers, rectifiers and power supplies.

This new family complements the other circuit conditioning components that Bourns offers such as power inductors, rectifier diodes and Zener diodes.
For further details on this exciting new series, please contact Customer Service/Inside Sales.
Features
TO-247 housing
Low inductance
High power rating
Ceramic back plate
Compatible with lead free solder reflow temperatures
AEC-Q200 compliant
RoHS compliant*
Applications
Power supplies
Motor drives
Test and measurement
Rectifiers
* RoHS Directive 2015/863, Mar 31, 2015 and Annex.