ADI's video decoder combines 12-bit 3D comb filtering with 1080p-HD 150 MSPS digitizer in a single-chip system, reducing design overhead while improving fine picture detail.
Analog Devices has expanded its Advantiv™ advanced television portfolio with a new 12-bit resolution 3D comb video decoder with an integrated 150 MSPS digitizer for Full-HD 1080p input formats. The ADV7802 provides system designers with a complete single-chip solution for improving video image and color quality in advanced high-definition televisions (HDTVs), video-processors, audio/video receiver (AVR) systems and DVD recorders. The new 12-bit 3D comb video decoder offers superior processing resolution for motion detection and 3D comb filtering operations, versus existing video decoder solutions, enabling designers to reduce trade-offs between image sharpness and Y/C separation performance – something that has traditionally been reserved for professional and studio broadcast applications – without the added cost and design complexity of discrete chip solutions.

ADV 7802The ADV7802 is the industry's only true 12-bit-resolution decoder with 4:4:4 sampling throughout the processing pipeline, including support for RGB SCART inputs, to provide designers with a higher level of system performance compared to existing 8-bit industry offerings using 4:2:2 sampling schemes. The addition of an on-chip interface with support for
SDR (single data-rate) DRAM reduces overall system cost while support for DDR (double data-rate) DRAM enables simultaneous 12-bit 3D comb (NTSC or PAL), digital noise reduction (DNR) and time base correction (TBC), providing designers with a complete solution for decoding standard-definition (SD) video for noisy off-air broadcast signals or poor-quality VCR tape recordings with unstable timing.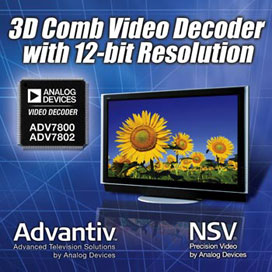 The ADV7802's multi-format conversion capability allows designers to easily convert analog video signals to create the vivid images, deeper colors and enhanced digital imaging features that consumers have come to expect in their video-processing and digital-TV applications. For TV chassis designs targeted to multiple end markets, the ADV7802 automatically detects and performs 3D comb filtering for a wide range of video standards in all regions, including all variants of NTSC and PAL. Advanced SECAM decoding is also supported. In addition, support for detecting and decoding weak terrestrial TV broadcast signals has been improved to ensure the best possible picture, even under remote reception conditions.

Leveraging ADI's superior analog-to-digital (ADC) converter technology and advanced adaptive Y/C separation algorithms, the highly integrated single-chip solution provides high-end video performance with its 3-tap, zero field latency 3D comb filter which operates on the full PAL field sequence. The ADV7802's 3D adaptive comb filter produces sharper, more accurate color reproduction, while the decoder's enhanced 12-bit YCbCr or RGB output capability (with interlaced or conversion to progressive scan timing) enhances a system's HDMI™ (High Definition Multimedia Interface™) Deep Color processing capabilities - even for analog input sources.
 
Availability and Pricing

The ADV7802 12-bit 3D comb video decoder is now shipping in production quantities and is available in a 176-pin TQFP (thin quad flatpack) package. The ADV7802 is priced below $12.00 per unit in volume quantities. A 10-bit version, the ADV7800, is also available in a 176-pin TQFP and is priced below $10.00 per unit in volume quantities. For more information, visit http://www.analog.com/pr/ADV7800 and http://www.analog.com/pr/ADV7802.
 
Analog Devices in Advanced TV

Because the signal processing performance requirements for HD video, audio and interconnect functions are significantly higher than for standard-definition TVs, ADI offers the Advantiv™ advanced television portfolio, providing cost-effective analog, digital, and mixed-signal solutions to the most difficult multi-format ATV design challenges. Supported by ADI's system-level experts, these customer-driven solutions enable the latest in HD home entertainment systems. Analog Devices offers a broad range of industry-certified solutions for advanced television (ATV) applications, with products that enable rewarding experiences for consumers enjoying the latest HD TVs, DVD players, digital video recorders, audio/video receivers, camcorders and cable and satellite set-top boxes. For more information, visit http://www.analog.com/pr/advantiv.